THE ISLAND OF LANA'I
It's a place just a few miles off the coast of Maui, yet worlds away from the Hawaii most visitors experience.
Once known as the "Pineapple Island", Lana'i was largely unpopulated for centuries, and remains distinctly unspoiled still today. It is a landscape of plenty, embracing within a span of nine miles both the heady beauty of the tropics and the majestic splendor of the mountains. It is home to two peerless luxury resorts offering championship golf, tennis, and sporting clays — as well as award-winning gourmet dining and world-class spa treatments. All this, surrounded by miles of untouched wilderness and silken beaches...a mere twenty-five minutes by air from Honolulu.
Land Activities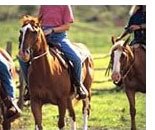 For the action oriented, imagine the thrill of an Eco Adventure across rugged terrain on a 4x4 or mountain bike trek. Or a horseback ride through soaring pine forests and vast meadows bursting with wildflowers. Or a sunrise helicopter tour through plunging alpine valleys. You'll also find experiences that seem surprisingly out of place on a tropical island, such as clay target shooting, archery, lawn bowling, and a perfectly manicured croquet lawn. Lanai's spectacular Lodge At Koele is home to a fitness center, tennis courts, an executive putting green, and The Experience at Koele - rated the best golf course in the world by the readers of Conde Nast Traveler. The Lodge at Koele also hosts the Visiting Artist Program, where celebrated chefs, authors, and musicians share their talents.
Ocean Activities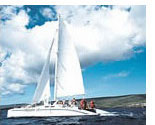 Come eye to eye with a spinner dolphin on a snorkeling excursion. Cleanse your spirit on a private sailing adventure. Lose yourself amid endlessly fascinating tide pools. For the sportsman, Lanai's coast is rife with possibility - including deep sea fishing, fitness hikes, scuba diving, ocean rafting, or The Challenge at Manele - a Jack Nicklaus masterpiece perched 200 feet above the crashing surf. The Manele Bay Hotel is home to a spacious tennis center, Hawaiian crafts classes, the renowned amenities of The Spa at Manele, and the Visiting Artist Program - where celebrated chefs, authors and musicians share their talents.